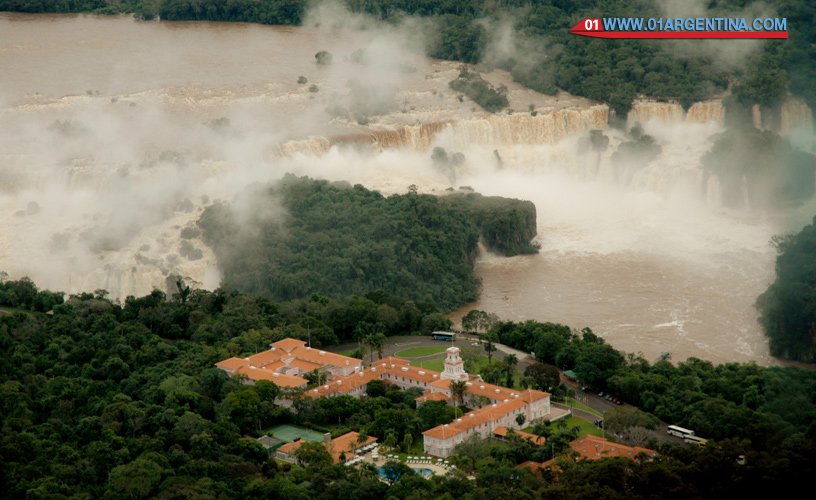 Fly over the Iguazu Falls is a unique experience and is the icing on the cake for everyone who travels to visit this wonder of the world. Because after touching them in Argentina and observe panoramically from Brazil, lack admire this work of mother nature from an aerial perspective that perplexes us. We start from Foz do Iguassu heliport to fly over the Iguazu Falls National Park and falls over a time of 10 minutes duration obtaining privileged views from the air.
The sign on the road inviting a unique experience flying over Iguazu Falls by helicopter. This is one of the many flights that daily leave from the Brazilian heliport and within minutes it possible to understand from the air how the falls are formed and how then the Iguazu River continues its normal course before emptying into the Paraná River.
Flight company ensures that the experience is really fascinating, as prudence and not to alter the native fauna flights are conducted to a considerable height and not on the falls, as many think. Thus the passenger can have a clear, unique in the world view of this unique landscape.
From the Brazilian side from where the scenic helicopter flights over Iguazu Falls.
One of the highlights of the trip to Brazil is definitely the Iguazu Falls. One of the 7 natural wonders of the world and a masterpiece of Mother Nature that leaves the mouth open to anyone who visits. But if you already from the ground, walking through its drawbridges, hallucinate in a thousand colors … imagine just watching them roar to see the Iguazu Falls from a helicopter.
Precious water waterfalls that make up the Iguazu Falls began to show beautiful from our privileged position but the thing further enhanced when we reach the famous Devil's Throat. Being the highest water jump Iguacu and reaching 80 meters left us speechless.
The flight takes approximately 10 minutes, begins tears through a jungle area and then there are discovered, smoking, imposing, full speed the helicopter starts to take up and the dream comes true, I overflight Iguazu Falls!
Huge clouds of water vapor are shaking the helicopter.
This flyby images you Current transition that will last in your memory retina and the rest of life.
The brown color is the amount of water that carried the Iguazu River. Power helicopter flying over the Iguazu Falls with so much water as falling at that time makes even more spectacular flight.
Normally they fall cascades average 1500 cubic meters per second. Devil's Throat from the air is just something unique and exciting.
10 minutes fly by. 10 minutes flying above these giants of nature that fill us unforgettable emotions, unforgettable snapshots, prospects of absolutely unique waterfalls, adrenaline and excitement of a freak of nature in full swing with tons of water falling per second that will hardly be erased from our memory.