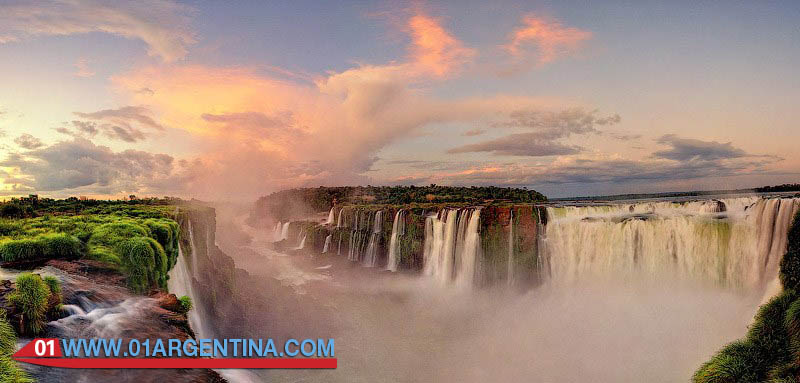 Iguazu Falls, shared by Argentina and Brazil are one of the 7 Natural Wonders of the World. This heritage of humanity declared by UNESCO in 1984 and 1986, is a place that only supports an adjective: paradise. Located in the far northeast of Argentina and a small part in Brazil, these waterfalls more than 80 m high extend nearly 3,000 m. The National Park is one of the areas with more hops in the world: in total there are 275. Plunged in Misiones jungle, home to over 80 species of mammals, 450 of birds and 2,000 species of native flora.
Imposings, challenging, majestic, impressive, does not exist in any language the word can describe completely and perfectly this miracle of nature. Iguazu Falls, located in the northwest corner of the province of Misiones, is one of the most attractive natural privileges of Argentina. permanently visited by thousands of tourists coming to these lands from all parts of the world, proudly display their incomparable beauty, offering visitors a wide range of activities to develop in Annex territory.
Wanda Mines
Great place especially known for its deposits of semi-precious stones turquoise, amethyst and rock crystal. The mines were located in 1976 and since then became a must for all those who come to the Falls tour. Inside agates, jasper, topaz originate, among other varieties, and can be purchased by tourists who come to visit this exciting place.
The stones extracted from the mines are converted into gems and used for jewelry making.
According recounts the legend, this place of great tourist importance is named after a Polish princess who was very fond of these gems.
40 kilometers south of Puerto Iguazu are located.
Birds house
Guira Oga is a recovery center and breeding birds belonging to the jungle of Paraná whose existence is threatened. From here they develop breeding programs in captivity of endangered species, as well as copies recovery plans injured or confiscated by the authorities. Other functions include bird rehabilitation and educational formation of reserves.
A site visit allows knowing variety of birds among which different species of eagles.
Open every day from 8:30 to 19:30.
It is located at Km. 5 of the National Route 12.
Aripuca
Recreational, educational and ecological resort, La Aripuca focuses its proposal just a gigantic and dazzling ancient aripuca built with huge logs. In its real existence, a aripuca is a trap used by the Guarani people to hunt small animals without hurting them. Meanwhile, this symbolic aripuca aims to catch the conscience of visitors by showing the majesty of the trees over 300 years that constitute and the need to protect nature.
In addition the property is located a typical hut Guarani culture where tourists can buy some of the fascinating handicrafts that these natives produce and contact them if you are interested; one Tacuru building built on different types of stones own territory of Misiones, where they are exposed and marketed products originating in each region of Argentina; and original spaces to cool off with a drink or enjoy spectacular parties; all in intimate contact with nature, inspired by her and built in his honor.
The Aripuca is the perfect opportunity to sponsor a tree and help protect these specimens that purify our air and more.
It stands on Provincial Route No. 12, about fifteen minutes from Iguazu Falls.
Milestone 3 borders
Only place in the world where two rivers divide three countries: Argentina, Brazil and Paraguay. magnificent space where two rivers and three cultures are consummating the attractiveness of the already majestic and impressive Iguazu Falls.
From this tourist site the three neighboring countries, distinguishing in each painted with the national colors corresponding obelisk can be seen.
Located at the international meeting point, and framed in an attractive vegetation, there is a corridor craft shows, exhibits and sells traditional crafts of the area made by the Guarani own using the techniques learned from their ancestors.
Ruins of San Ignacio
The San Ignacio Jesuit Reductions are an unavoidable vestige of the epic of the Jesuits, which had an abrupt end by order of Carlos III, after 200 years of evangelization and missionary education in this land. Earth history, legends, magic and mystery.
San Ignacio Mini
Ruins of San Ignacio Mini are a constant pilgrimage center in the province of Misiones. According tells the story, the priests Jose Cataldino and Simon Masceta had founded in 1610, in the region of Guayrá (Brazil), the reduction of San Ignacio Mini, along with others that, in 1631, would be besieged constantly by the Portuguese hunters slave (bandeirantes). Only the people of San Ignacio and Our Lady of Loreto to survive the attacks, emigrating in 1632 and settling on the banks of river Yabebirí in present,  Argentina's Misiones province.
San Ignacio Mini would be established on the site where today remain the ruins in the year 1696. Subsequently, all reductions, even that would be destroyed by the Paraguayans in 1817, and restored in full in the 1940s, a situation that can appreciate actually.
Today, the ruins of San Ignacio Mini are holders of significant value in the province of Misiones They are viewed significant part of history and as a tourist attraction conservándoselas remarkable.
They were declared Provincial Historical Monument in 1969; National Historical Monument in 1983 and World Heritage Site in 1984.
Nuestra Señora de Loreto
Once settled in Misiones, this reduction was highlighted by the holding of the first American printing and an important library; as well as its productive diversity. In the Jesuitical set stands the temple, where the relics of Antonio Ruiz de Montoya are buried; while other significant elements are the remains of the Chapel of Our Lady of Loreto.
Saint Ana
The first foundation of the Jesuit Guarani village of Santa Ana dates from 1633 in Brazilian territory. Following the invasions of the bandeirantes was shifting until 1660 is based on the final site. Retains one of the most voluminous architectural remains. It is Provincial Monument since 1969; National since 1983 and a World Heritage Site since 1984.
Santa Maria Maggiore
Reducing Santa Maria is the only Jesuit entire western coast of the Uruguay River that preserves architectural remains. Exhibits great bearing walls and excellent technical resolution, remains of chapels, ponds, ditches and roads. It is remarkable state of preservation of the remains of the residence, workshops and temporary temple, since the original was destroyed by fire in the early nineteenth S.
It is a National Monument in 1945 and World Heritage Site since 1984.
San Ignacio Ruins are open to the public daily from 7:00 to 19:00