With 75% of reserves, Iguazú Falls is positioned again as favorite tourist destination of Argentina.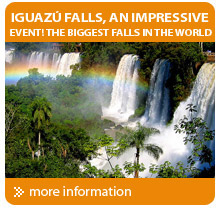 Flights to Iguazu come filled with many family arrive in private cars to the city of Iguazu Falls. From Iturem, pointed out that since yesterday, Friday, we began to see the movement of tourists, there is a 75% reserve and expectations for the long weekend are more than encouraging.
As a destination within the country, the city of Iguazu Falls expected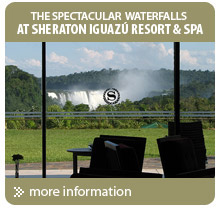 long weekend with lots of movement and lots of new people visiting the natural wonder of the world. Flights to Iguazu reach grocery stores and buses are in great demand, as well as many private cars arriving family.
ITUREM president, Claudio Alvarez said in a conversation with Mission On Line round the reserves in 75% and expect the occupation exceed this figure because many people come to the city without prior reservations."We have great expectations for this holiday, since yesterday afternoon and began to see movement in the streets with lots of tourists arriving in Puerto Iguazu" said Alvarez.
He added "the city offers interesting alternatives in terms of attractive, because not only are the falls but there are other very good points to visit Iguazu, and also the varied culinary offerings are also a major plus in terms of services. For this weekend is expected to mainly domestic tourists. "
More beds in Iguazu Falls
Moreover, the holder of said Iturem ended survey of places in Puerto Iguazu and said about providing end 2012 with 12 000 beds.
"In a preliminary survey data is that we have 10,624 beds, so we will walk easy for the 11 000 when complete information. And when they inaugurate the hotels that are scheduled to open this year, will reach the 12 thousand people, with that number we close the year, "he said.
In the rest of tourist destinations of Argentina
It may be recalled that since yesterday flights to Cordoba, Bariloche, Mendoza, Iguazu, Salta and El Calafate, start with filled to capacity. Nationally believe there will be an increase of 5% over the same period last year.
The Ministry of Tourism Office decided that the movement of tourists to mark the long weekend that starts today will be 700,000, which would mean an increase of 5% over the same period last year.
A survey conducted by the Ministry indicates that arrivals at tourist destinations in Argentina during the long weekends in 2012 will total 8.6 million, a rise of 41% compared to 2011.
The report details that the average stay in this long weekend will be three nights, daily average spending will be around 160 pesos and that nearly 95 percent of tourists will travel within the country.
Among other data, also notes that almost half of the tourists traveling in a group consisting of two or three members of his family, while 37 percent do so in groups of four or five people.