Route Itinerary Guaraní Jesuit missions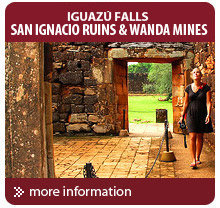 San Ignacio Mini is located 61 km from Posadas, the reduction is the best preserved indigenous mission among the eleven that flourished in missionary territory, thus recovering recently restored all its glory. It was founded in 1610 but it was moved several times. The grandeur of its ruins reveals the magnitude of the missionary, who not only preserved the native culture but also contributed to the development of a unique social phenomenon in America.
It associates its name to its indigenous past and figure-Jesuit writer Horacio Quiroga. His red soil, vegetation and fauna Amazon jungle (highlights toucans, macaws, howler and spider monkeys, peccaries, anteaters and otter) make this a unique destination.
You can visit the Interpretation Center Jesuit-Guaraní and also enjoy guided tours, a beautiful sound and light show that tells the mission life, from its beginning until their expulsion in 1767.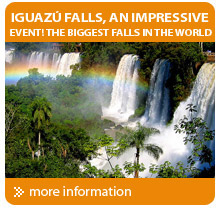 The ruins were rediscovered in 1903 by the expedition led by Leopoldo Lugones, Cordovan famous writer.
The buildings which today can be recognized, some of them are in excellent condition: the Plaza de Armas, with parts of a sundial that still remains and buildings of the Cabildo and the Church. In its vicinity stood the residences of the priests and natives, warehouses, workshops, school, cemetery and hospital.
The temple is an excellent example of American Baroque, whose columns only fulfills an aesthetic function, as the wooden cross members act as support walls.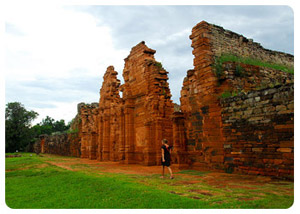 Another interesting place to visit is the Museum of writer Horacio Quiroga, where he lived and was inspired by the famous Uruguayan-born storyteller.Santa Ana is located 40 km from Posadas, in an era of reconstruction, founded by the Jesuits in 1633 and abandoned when this congregation was expelled from all domains of the crown, in 1767.
Despite advances in the jungle, you can see the Plaza Central, Church, shops, homes and cemetery.
Currently the provincial government is building the Santa Ana Park, which will have a huge cross emblem 80-meter high hill is located in Santa Ana, as well as build a museum, interpretive center and trails.
Jesuit missions excursions
Our Lady of Loreto, 53 km from Posadas. It was one of the most important Jesuit towns for its production of canvas and mate and to have had the first press of the time.
Santa Maria Maggiore, unrestored, Located 150 km from Posadas. Founded in 1636, during the destruction of villages by Paulist malocas, was fully consolidated when the Jesuits were expelled in 1767.