After the growth of the river Iguazu Falls offer comparable performance to break the Perito Moreno glacier.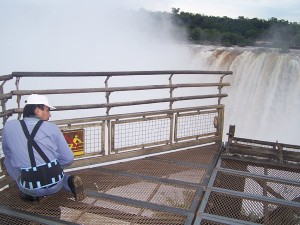 How are the gateways to Iguazu Falls important dimensions increasing as we live in these days?
The system is designed so that, before the rise of the river, the rails are folding, and this allows the water to flow without resistance in its path. If the high water was higher than usual, as in this case, the sections that make up the walkway and go off into the river, that to avoid damage to the piles, which are the mainstay of the entire structure.
So the company explained Iguazu Argentina, licensee responsible for the administration of the area Iguazu Falls National Park and they built the new park infrastructure that exists today.
"The release of rails, which took place on this occasion, is intended to prevent the water pressure is transferred to the concrete structure. Gateways are prepared to support a water velocity of 4000 meters cubed per second, and that, upon reaching this speed, the metal structure which is already detached from the concrete structure that supports it, moves and is carried by the stream a short distance, allowing rapid recovery once subsiding waters "and explained in the previous flood -18 June 2012 – Diego Toja, a spokesman for the company.
The procedure is repeated and always proved to be a successful operative, said from the company.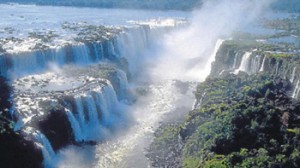 Tourism Minister of the Nation, Enrique Meyer, toured on Wednesday with Governor of Misiones, Maurice Closs, Iguazu National Park and noted that, following the recent rise in the river, "the Falls offer visitors exceptional show."
"Today, all jumps are 'Gorge Devil,'" said Meyer, who noted that the National Park is operational, which is closed to public access to the falls and the water flow current 7,500 cubic meters per second instead of the usual 1800 cubic meters, create ideal conditions for a site visit.
"If likened to the Perito Moreno Glacier, meaning that Iguazu Falls today present a spectacular conditions similar to a break," he added.
He noted further that the staff of the National Parks Administration is working on a survey of each of the circuits for the thousands of visitors who come to enjoy the unique landscape that offer.