Information of Iguazu falls Argentina
The Iguazu Falls constitute a very important point in a trip to Argentina. Declared Natural Heritage Site by UNESCO, they are considered one of the seven natural wonders of the world. It is 275 waterfalls up to 70 meters high that exhibit a nine fold volume of water over Niagara Falls. The high temperatures and humidity, make this area into a huge greenhouse that meet the essential conditions to house more than 400 bird species and nearly 2,000 species of plants, variety of insects, mammals and reptiles.

Gateways allow the Argentine side walk on water, if not at the foot of the falls, to the Devil's Throat, where water falls furiously displays all the exuberance of nature subtropical Misiones rainforest.
Argentine gateways do two tours allow. One is called upper circuit, that offer a circuit above the falls, to see when the water is dumped into the bowels of the earth. Other is called lower circuit because you are located lower-level waterfalls. You can also reach the foot of the falls when one embarks on a boat. Like a water rodeo, the "raft" struggle with the waters to break through and give a superb view of the falls, which, from below, seem even more impressive.

To complete the prospects you have to see Iguazu Falls from the Brazilian side. You climb on the rock cliff by the water to penetrate into the heart of the power of nature. There is also a gateway to a place forever shrouded in mist, which extends far beyond the falls.
Another alternative is the adventure activities like canopy (slide between the tops of the trees), rappelling rock walls, and for the less adventurous, a ride on the little train flowing green river of the Argentine side.
Jesuit ruins of San Ignacio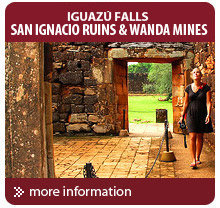 The original inhabitants of the area were the Guarani Indians who lived in the region until the arrival of Jesuit missionaries. At the end of the eighteenth century the Guarani and Jesuit missions were expelled and abandoned, lost in the jungle. You can visit the ruins, declared a World Heritage Site by UNESCO. To prepare you can watch the movie "The Mission" which tells Roland Joffré Jesuit experience with spectacular Iguazu Falls footage.