Book tours to the amaizng Wanda Mines in Iguazu Falls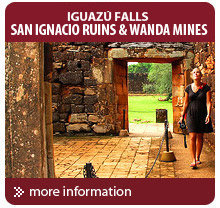 Tours to the fantastic Wanda Mines in Iguazu Falls, Argentina
Magnificent place best known for its deposits of gemstones, turquoise, amethyst and rock crystal, Wanda Mines were located in 1976, and since then became a tour must for all those who come to these distances in a region known as La Selva. Inside the wanda mines the tourist can find precious stones like agates, jasper, topaz, among other varieties, and can be purchased by tourists who come to know about this fascinating place. The stones from the mines are converted into gems and used for making jewelry. In line with this, and as the legend tells, this important tourist site is named after a Polish princess who was very fond of the beauty of the stones generated there.
The semiprecious stone deposits are located 2 kilometers to the west of the town of Wanda. They are accessed from El dorado, traveling north on National Highway No. 12.
More tourist information about the Wanda Mines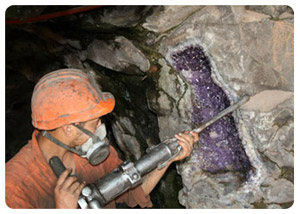 Wanda is a town in Argentina's Misiones province, located in the Iguazú Department. It is located at latitude 25 ° 58 'South and a longitude of 54 ° 34' West. The municipality is based on it called Colonia Wanda, however, the town is usually called just Wanda. The municipality has a population of 18,779 inhabitants, according to the 2011 census (INDEC). As locals Wanda can refer to local radio news sources in the context of the last election, the number of inhabitants rises just over 20,000 people. It is located just 55 miles from Iguazu Falls, and it is a must for tourists visiting the province, visiting mines extracting semi-precious stones. The Wanda Mines is currently the second tourist destination chosen within the province.