The area Iguazu Falls National Park was honored as "accesible destination" by the Ministry of Tourism of the Nation, after the relevant technical assessments by the portfolio.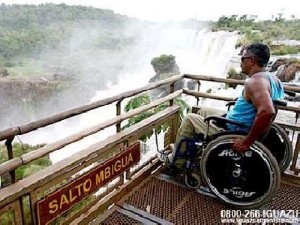 The destination has access ramps, specially allocated spaces for wheelchairs in the Ecological Jungle Train and wheelchairs specially adapted for transit through gateways and special motor cars to transport people requiring thereby move.
The floor has different textures that enable visually impaired people a better location: cement paths, polished granite interior and galvanized steel catwalks.
It also provides the area with posters indicative of the different circuits and models information in Braille. Also, all staff working in the company is trained and qualified to better assist those with any limitations that require it.
Also, the catwalks have double handrails, to 75 and 95 inches in height-for children, people with mobility impairments and for those of stunting.
Executives from the dealership, Iguazu Argentina received a plaque from the Minister of Tourism, Enrique Meyer, Park distinguishes as "affordable destination."
The company "has been working since the beginning of his administration, in conjunction with the National Parks Administration and the Ministry of Tourism of the Nation, in the design, construction and management of an accessible environment within the park, with an intense work the program called Architecture without Borders ', to Iguazu Falls, one of the new Seven Natural Wonders of the World, is a "destination for all' and is considered as an example to emulate in terms of accessibility," the dealer said. Within the Iguazu area, tourism infrastructure, designed under the theme "architecture without barriers", was designed so that more than 90% of their routes were accessible.