Guarani Jesuit Missions Travel Information
The best-known ruins of San Ignacio Mini reduction, a Jesuit mission founded by the Jesuit priest, San Roque Gonzalez de Santa Cruz in the early seventeenth century to evangelize the native Guarani, are in the current town of San Ignacio, in Argentina's Misiones province, distant about 60 km from the provincial capital Posadas. Although the initial seat of San Ignacio Mini (San Ignacio Mini I) was located at the northern end of the current Brazilian state of Parana where between the sixteenth and eighteenth centuries the territory of such state was Spanish region of La Guaira.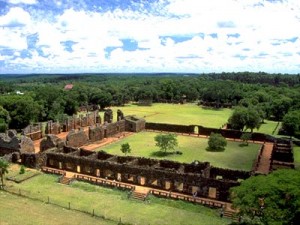 San Ignacio Mini Tourism
The initial mission with the name of San Ignacio Mini (San Ignacio Chico) was erected by the priests Jose Cataldino and Simon Maceta in the region that the natives called Guayrá and the Spanish called La Pinería (by the abundance of pine Paraná), These territories were Hispanic but currently represent the state of Paraná (Brazil). So the initial mission happened in the year 1610, more precisely on the left bank of the River Paranapanema nowadays called Santo Inácio. The coordinates of the first seat of San Ignacio Mini were: 22 ° 41'52 S 51 ° 47'37 O.
San Ignacio Mini I was then one of the 13 reductions founded by the Spanish Jesuits from 1554 when Guayrá existed in the Spanish towns of Ontiveros, Ciudad Real and Villa Rica Guayrá of the Holy Spirit, the first San Ignacio Mini was then founded a short distance from the capital of the Jesuit Missions of Guayrá such reduction and capital was the city of Our Lady of Loreto founded in 1610 and also located on the left bank of Paranapanema and at the mouth of the river Paranapanema Pirapó.