Iguazu Falls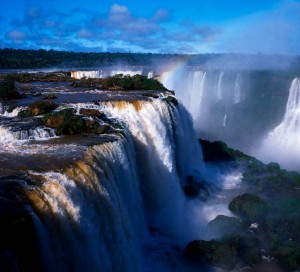 Iguazu Falls are one of the largest, beautiful and spectacular waterfalls in the world, considered by some as the eighth wonder of the world . With a volume of water nine times higher than Niagara Falls .
The climate is subtropical with high humidity and temperatures. The summers are very hot while the autumn , winter and spring have mild days . The temperature and rainfall differences between the four seasons are not too sharp , so the weather is not any decisive impact on the decision of when to go to Iguazu. However, it is important to note that during the winter months can be cool days (average temperatures of 15 ° C ) , so that should bring something warm . In summer ( December to March ) temperatures can become stifling ( average maximum 32 ° C ) for those not used to the heat and humidity is recommended to consume plenty of water to stay hydrated . While rainfall is fairly evenly distributed throughout the calendar , there is more rainfall in the period between October and March. In December and January is when the water flow reaches the highest levels . The peak in the match Iguazu holiday dates in the region. Holy Week , the holidays July and New Year festivities are times with high influx of tourism, so you should book packages , tours and accommodation well in advance.
Iguazú , " The big water of the Guarani " is characterized by its 275 waterfalls in the shape of a half moon falling from 70 meters . The limit to the falls passes through the Garganta del Diablo, water -walled gorge about 150 meters wide by 700 meters long , where multiple rainbows originate .
The most important Waterfall Salto Union , for its unique landscape , for being a natural border between Argentina and Brazil and that by breaking the stream of a huge middle link , creates a maelstrom of foam and mist, known as the Devil's Throat , the fascinating spectacle of the entire area . Since 1986, National Heritage site declared by UNESCO.
Following the course of the river, the falls are approximately 22 kilometers from its mouth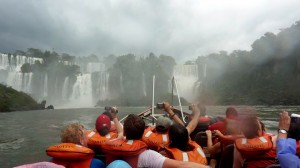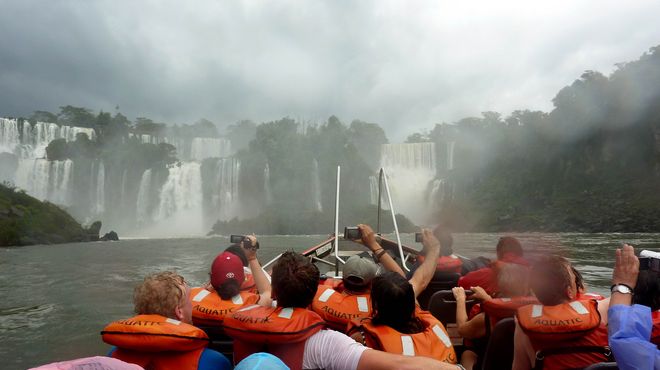 in the Parana River . At the top of the falls the river is meandering variable width , also presenting several elongated islands and islets . From St. Augustine Island the river widens to about 1,500 meters for the most part , forming a wide " U" , which contains the great flaw that leads to a steep slope in the field and , hence, to the falls . JUMPS In Misiones numerous waterfalls of lesser magnitude than Niagara Falls , many of which are hidden by the lush vegetation. Among the best known are : Cheerful, Berrondo , Bonito, Capioví , Cuñá Piru , Cuñaporá , Urquiza , Chavez , Encantado, Gramado , Bull 's Eye , Lizard, The Hinds , Mysterious , ñacanguazú , San Bernardo , Paca , Tres de Mayo , tabay , Tupi Cua , urugua -i , Yabotí .