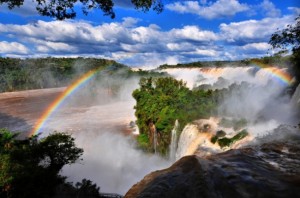 Enjoy with the roar of the falls ; water vapor hops ; rainbows that form in the mist of water and sunlight ; contrasting colors between the green of the forest, the blue sky , the white foam of the jumps and the red water red earth ; swifts , bird species found only there and having a powerful vision that allows them to pass through the curtain of water breaks and nest in the rocks of the falls.
You can also enjoy the night Rainbow Iguazu Falls in the evening of a full moon and a very exotic experience.
The best place to see it is from the Devil's Throat, the main jump lasCataratas Iguaçu and is one of the more interesting activities to do at Iguazu Falls, the sad thing is that only for a few nights a month , during the nights of moon.
The night rainbow is a phenomenon that is produced by the passage of the moonlight through tiny water particles that are dispersed in the air, when the water falls hard in waterfalls .
In the area of ​​Iguazu Falls at night the forest is pure magic , perfect combination of the mist produced by waterfalls , silhouettes and shadows of the trees dimly lit by the moon and all accompanied by the sounds of jungle : a melody of crickets, cicadas , crackling leaves flapping in the breeze, accompanied by the sound of water falling from a great height .
In the weakly star-studded dark night where the moon queen with her light bathing the stunning waterfall , arises from the back of the throat a set of seven vertical and parallel to leap colors: wonderful rainbow, surely the natural show more stunning , shocking and wonderful thing I've seen so far … and that has been burned into my retina.
Only nature and imagination can create such a spectacle , it is not surprising that Indians believe that the moon , the sun and even the river were gods , because the man with all his monumental works of architecture, can never match the rainbow they can "draw" water and light at night .